Glow Goddess Lentil Soup
INGREDIENTS
1 /2 TBL olive oil
2 cups diced onion (1med)
2 large garlic cloves minced
3 tsp Glow Goddess seasoning
1 can diced tomatoes with juice
3 1/2 cups vegetable broth 
1/2 tsp sea salt to taste
1 5oz package of baby spinach
METHOD
In a large pot, add the oil, onion, and garlic. Add a pinch of salt, stir, and sauté over medium heat for 4 to 5 minutes until the onion softens. Stir in Glow Goddess until combined. Continue cooking for about 1 minute, until fragrant. Add the diced tomatoes (with juices), entire can of coconut milk, red lentils, broth, salt, and plenty of pepper. Add red pepper flakes or cayenne, if desired, to taste. Stir to combine. Increase heat to high and bring to a low boil. Once it boils, reduce the heat to mediumhigh, and simmer, uncovered, for about 18 to 22 minutes, until the lentils are fluffy and tender. Turn off the heat and stir in the spinach until wilted. Add the lime juice to taste. Taste and add more salt and pepper, if desired. Ladle into bowls and serve with toasted bread and lime wedges.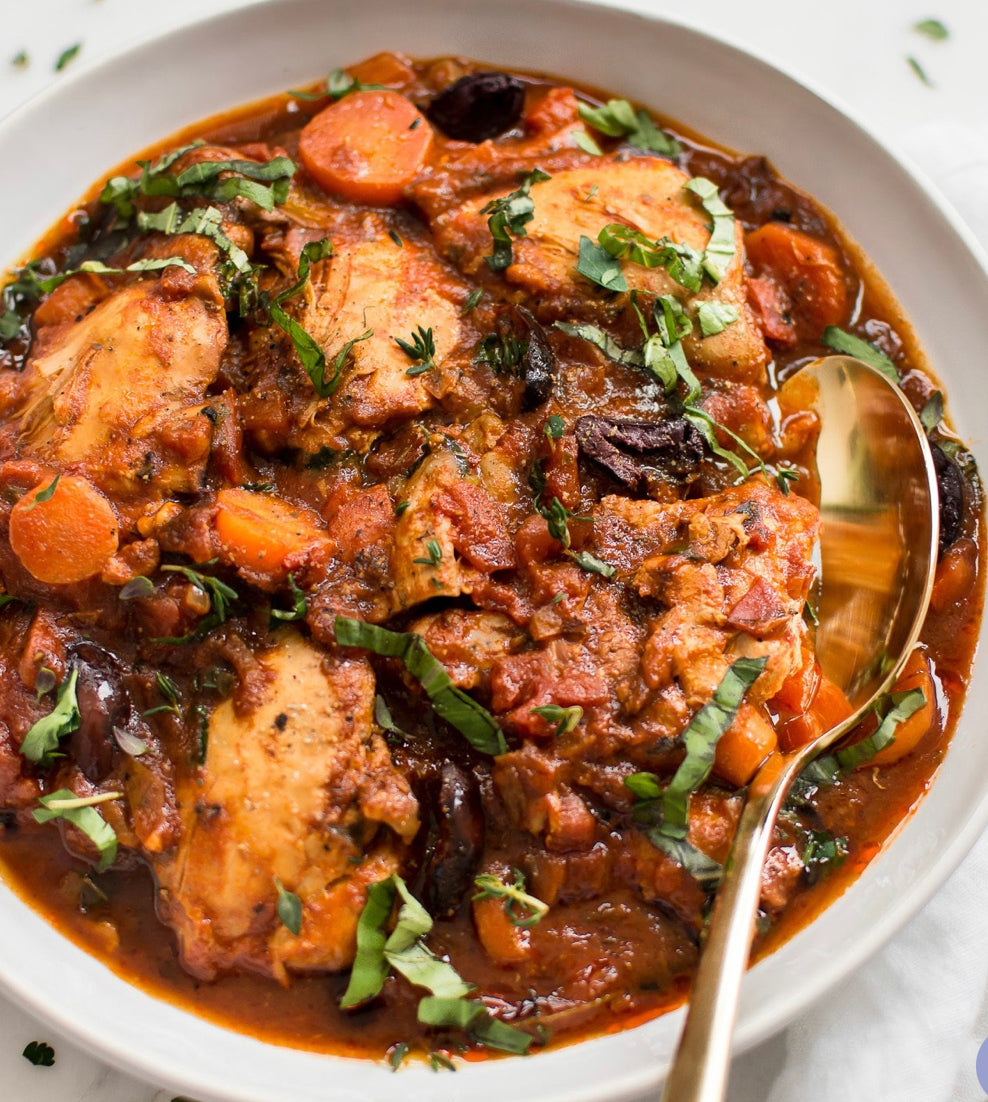 Ciao Bello Chicken Cacciatore
INGREDIENTS
6 chicken thighs - boneless skinless 
 salt and pepper to taste
 1/4 tsp. paprika
2 tbsp. olive oil
 1 yellow onion - diced
 4 garlic cloves - minced
1 yellow or red bell pepper - diced
 1 carrot - peeled and sliced
 8 oz. cremini mushrooms - sliced
1 tablespoon real maple syrup or honey
1 tablespoon balsamic vinegar
 8 fresh thyme - sprigs 
 1 tablespoon Ciao Bella Italian seasoning
 1/2 cup chicken broth, or veggie broth low-sodium 
 20 oz. crushed tomatoes
 pinch red pepper flakes (optional )
 1 tbsp parsley/parmesan cheese
INSTRUCTIONS
Season chicken thighs with salt, pepper and paprika. Set aside.
Turn Instant Pot to SAUTE mode. Once hot, add the oil. Add the onion and saute until soft, about 2-3 minutes, then add the garlic and saute until fragrant, about 30 seconds.
Add the peppers, carrot, mushrooms and Italian seasoning. Saute for 5-7 minutes until vegetables begin to lightly brown. Push vegetable to the side of the pot to create a well in the center for the chicken.
Add the chicken and brown on both sides. Pour in the chicken/veggie broth. Let simmer for 5 minutes, letting the liquid reduce in half.
Add the crushed tomatoes, balsamic vinegar, maple syrup. Gently mix the ingredients together.
Place lid on Instant Pot and lock. Make sure valve is in the sealing position. Select chicken mode for 18 minutes. Let the pressure release naturally for 5 minutes, then manually release.
remove from heat and garnish with freshly chopped parsley. Serve over rice a bed of spaghetti or zucchini noodles.